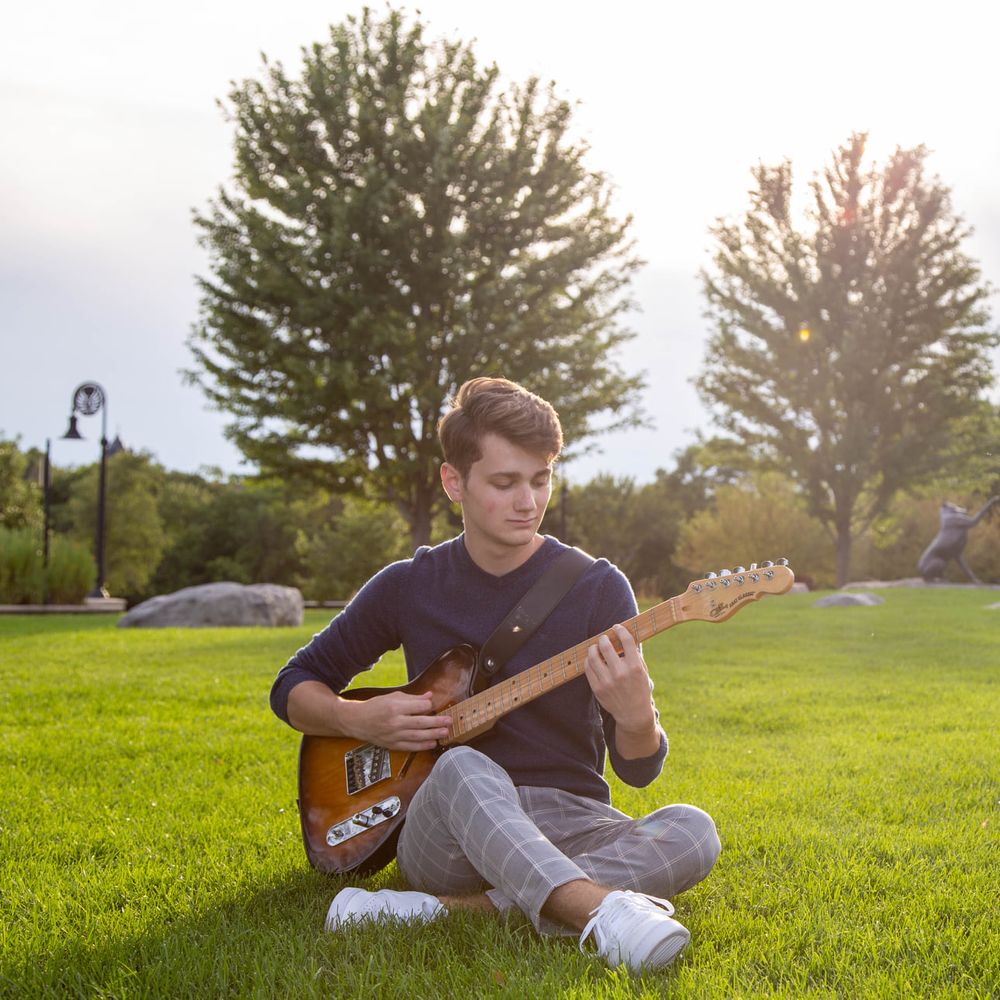 Bio
Spencer Douglas
From a young age, Spencer always was surrounded by music. An Eau Claire, Wisconsin, native, he grew up immersed in an ever-expanding vibrant music and arts scene. This exposure helped foster a deep love and involvement in the arts. From third through eighth grade, Spencer appeared in nearly a dozen regional and touring musical productions through local community theaters. He started dance training at age 7, learning jazz, ballet, hip-hop, musical theater and acro, competing with distinction in numerous regional competitions across the Midwest. He has been invited to perform in multiple honors choirs, received numerous top honors in State Solo & Ensemble, including an Exemplary Award. For two consecutive years, he was the youngest male principal singer and dancer in the iconic, professional touring group Kids from Wisconsin.
Several years ago while in middle school, Spencer was surprised to learn his mom had purchased an inexpensive guitar for him to learn over summer vacation. He immediately began to learn the instrument, starting with basic chords. Instead of learning songs by artists he loved, he chose a different direction. Within three days, he had written his first song, then a second and a third, titled "Apologize," which appears on his debut EP. Spencer continued writing songs and, over time, his guitar playing evolved along with his lyrics. Spencer has wide-ranging tastes in music. Artists, including Passenger, Ed Sheeran, Bon Iver, Jon Bellion, Young The Giant and Mac Demarco, have all made a deep impression on his style.
At age 14, Spencer booked time at a local studio to record some of his music. He quickly discovered he was unable to play to a metronome, did not have any demos, and only had guitar and vocals for his songs. It quickly became apparent he had work to do before coming back to the recording studio. Over the next several months, Spencer spent countless hours learning new software, creating and exploring new musical ideas, and putting them all down into a comprehensible idea which he would present to the studio producer. Each time he was met with new challenges to overcome. Eventually, he was told he was ready for the first day of recording. Spencer says he was incredibly lucky and grateful to have so many talented musicians join him in this project. Recording took place over several days, and when mixing and mastering was complete, Spencer anxiously awaited the release of his music.
From a naïve 14-year-old eager to become a musician, Spencer has evolved into a moderately experienced musician, still eager to learn and striving for continued musical growth. "Princess Charming," the debut EP of Spencer Douglas, is the first chapter in a young singer-songwriter's journey to share his personal voice. Taking influences from multiple styles, each song is an exploration and interpretation of relationships and personal reflections. The EP features a range of reflective lyrics, upbeat instrumentation and catchy melodies composed, arranged and recorded by the teen when he was 15. He plans to continue his musical journey and have some fun along the way.